20
And it came to pass after these things, that it was told Abraham, saying, Behold, Milcah, she hath also born children unto thy brother Nahor;
21
Huz his firstborn, and Buz his brother, and Kemuel the father of Aram,
22
And Chesed, and Hazo, and Pildash, and Jidlaph, and Bethuel.
23
And Bethuel begat Rebekah: these eight Milcah did bear to Nahor, Abraham's brother.
24
And his concubine, whose name
was
Reumah, she bare also Tebah, and Gaham, and Thahash, and Maachah. (Genesis 22: 20-24)
Which things "came to pass" in this passage?
Abraham offering his son Isaac, but God provided receive a lamb in Isaac's stead, which Abraham then offered to God:
11And the angel of the LORD called unto him out of heaven, and said, Abraham, Abraham: and he said, Here am I.12And he said, Lay not thine hand upon the lad, neither do thou any thing unto him: for now I know that thou fearest God, seeing thou hast not withheld thy son, thine only son from me. 13And Abraham lifted up his eyes, and looked, and behold behind him a ram caught in a thicket by his horns: and Abraham went and took the ram, and offered him up for a burnt offering in the stead of his son. 14And Abraham called the name of that place Jehovahjireh: as it is said to this day, In the mount of the LORD it shall be seen.
In verse 14, Abraham calls the mountain "Jehovah-Jireh"--which literal means "The LORD is provision."
God indeed did provide Himself a lamb:
"8And Abraham said, My son, God will provide himself a lamb for a burnt offering: so they went both of them together." (Genesis 22:8)
Indeed He did, and this same "Himself" would bear our sicknesses, our diseases, and our sins:
"3He is despised and rejected of men; a man of sorrows, and acquainted with grief: and we hid as it were our faces from him; he was despised, and we esteemed him not.
"4Surely he hath borne our griefs, and carried our sorrows: yet we did esteem him stricken, smitten of God, and afflicted.
"5But he was wounded for our transgressions, he was bruised for our iniquities: the chastisement of our peace wasupon him; and with his stripes we are healed." (Isaiah 54: 3-5)
"That it might be fulfilled which was spoken by Esaias the prophet, saying, Himself took our infirmities, and bare our sicknesses." (Matthew 8:17)
"Who his own self bare our sins in his own body on the tree, that we, being dead to sins, should live unto righteousness: by whose stripes ye were healed." (1 Peter 2:24)
But what about the above passage stands out on this matter?
Notice one person born to Nahor, the brother of Abraham:
23
And Bethuel begat Rebekah: these eight Milcah did bear to Nahor, Abraham's brother"
Rebekah, Isaac's bride to be!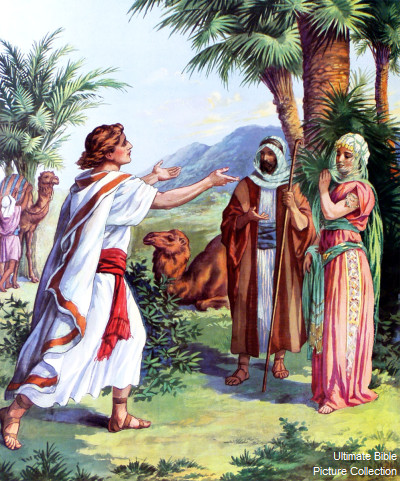 And notice how Isaac received Rebekah:
"62And Isaac came from the way of the well Lahairoi; for he dwelt in the south country. 63And Isaac went out to meditate in the field at the eventide: and he lifted up his eyes, and saw, and, behold, the camels were coming.64And Rebekah lifted up her eyes, and when she saw Isaac, she lighted off the camel." (Genesis 24: 62-64)
God provides for all our needs--He over-provides for our current needs--and He forsees our needs well into the future, too!
While God was providing the Lamb to offer in Isaac's place (and for all of us!), He was already getting Isaac's bride ready, ensuring that the promise which He had made to Abraham would come to pass!